Welcome to the Compass Group Crisis Management page. A crisis can be anything from food poisoning or serious injuries right through to terrorist attacks. In the event of a crisis in your location call the Crisis Line on 0800 011 4630.
Our crisis management commitment is to address any crisis in an open, honest and effective manner in order to protect the reputation of the company and retain the trust of our consumer, clients, employees and shareholders.
Our prime concern is for the safety and well-being of our employees and members of the public, whilst handling any crisis with the over-riding objective of returning to 'business as usual' as quickly as possible.
The Crisis Management Guide For Managers is designed to show you how our crisis management framework works and how you can escalate an incident to our crisis management team where appropriate.
It outlines the steps to take, to ensure we are able to quickly and calmly confirm the safety of our colleagues in the event of a crisis. We have also included some practical advice from the police on counter terrorism awareness.
Crisis Management Framework
The Compass Crisis Line is a 24/7 hour contact centre with a dedicated, free telephone number and sits at the heart of our Crisis Management Framework. It is the mechanism for instigating our Crisis Management Procedures.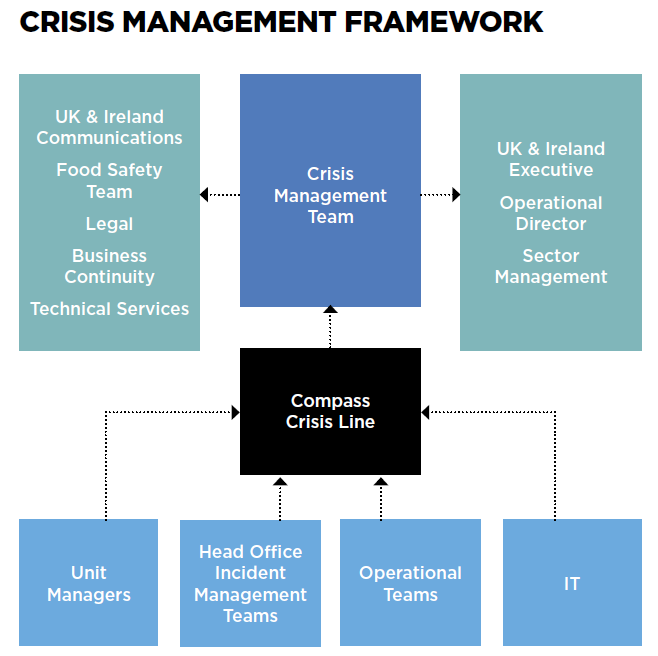 Assessing The Severity Of The Incident
Incidents are classified from level 0 to 4 and are graded according to complexity and impact. They are split into categories which cover all aspects of our central functions and business operations. As you will see from the table below, our crisis management procedures are formally activated when an incident is classified as level 2 (potential crisis) or above.
The activation process starts with a call to the Crisis Line following an assessment of the incident. The call be made by a unit manager, head office team or operational team.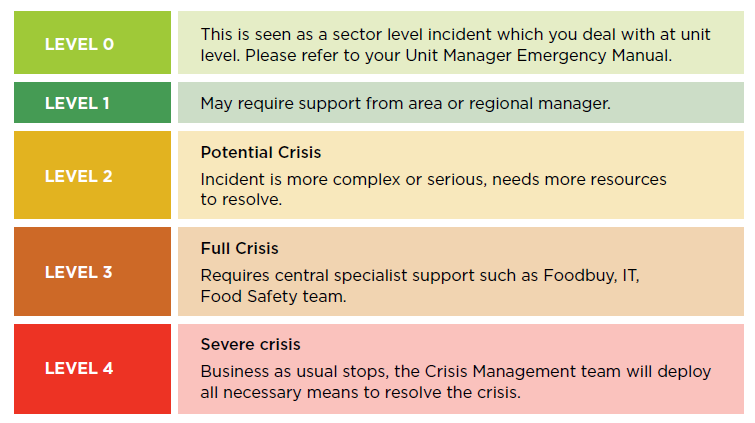 CONTACTING THE COMPASS CRISIS LINE
If the incident has been classified as Level 2 or above, call the Compass Crisis Line on 0800 011 4630.